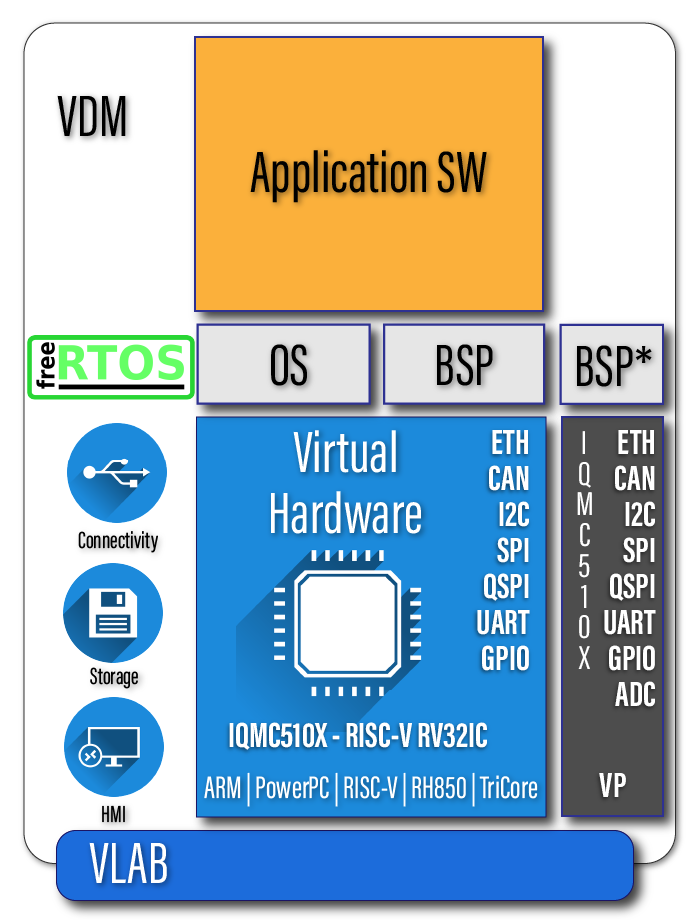 VLAB Virtual Platform (VP) Toolbox products extend the VLAB range of VDMs with additional support for the specific low level hardware architectures and specifications of market leading third party embedded computing devices. These extensions enable the execution in VLAB, of a wider range of low level or bare metal operating software specific to such third party devices.
VLAB VP Toolboxes package and deliver additional virtual hardware components and integration of these with VLAB, which support alternative specifications of already pre-integrated hardware functions or provide new hardware functions. For example, adding support for an alternative third party controller for CAN, or adding a new virtual interface to a digital radio device.
Custom VLAB VP Toolbox products can be prepared to order, to provide customer specific virtual platform solutions. For example, a virtual platform of a specific customer proprietary embedded computer module, such as an Automotive Control ECU or a Gateway ECU.
Infineon
Toolboxes and Device Variants available:
Aurix TC3xx – TC36x, TC37x, TC38x, TC39x
Aurix TC4xx
NVIDIA
Variants available:
NXP
Toolboxes and Device Variants available:
i.MX8 (Quad A53) | Linux
MPC56xx – MPC5604BC, MPC5645B, MPC5674F
MPC57xx – MPC5746M, MPC5746R, MPC5748G, MPC5775N, MPC5777C
MPC74xx – MPC7448
MPC8xxx – MPC8260, MPC8548 
QorIQ – P5040, T1040, T2080

S32 – S32Kx, S32G
Renesas
Toolboxes and Device Variants available:
RCar – V3M
RH850 G3 – P1M, P1xC, C1x, F1H, F1L, F1k, E1x
RH850 G4 – E2x, E2XFCC2, U2A
ST Micro
Toolboxes and Device Variants available:
SPC5 – SPC58NH90C3, SPC58NH92C5
Texas Instruments
Toolboxes and Device Variants available:
J721E V-EVM – DRA829J, DRA829V, TDA4VM, AM752x
J7200 V-EVM – DRA821U, DRA821A
AM64x V-EVM – AM6411, AM6412, AM6421, AM6441 AM6442
AM62x V-EVM – AM623, AM625
Toolbox Catalog
VLAB Virtual Platform Toolboxes provide access to related virtual platforms for specific partner semiconductors and modules.
You may request a quote for a listed VLAB VP Toolbox or to order a new one specific to your needs. New virtual platforms may result in modification to an already existing VLAB toolbox product or be packaged and supplied as a new toolbox.
VLAB Virtual Platform Toolboxes are licensed as add-ons to VLAB VDMs. As part of a VLAB installation, users can select a version of VLAB to launch and manage VDMs that suits their environment, resources and use case.
When licensing a toolbox, customers will be informed of the required VDM Processor Architecture(s). For example, a Virtual Platform Toolbox providing a line of ARM based SoC virtual platforms will require VLAB VDM with ARM Processor Architecture as a prerequisite.